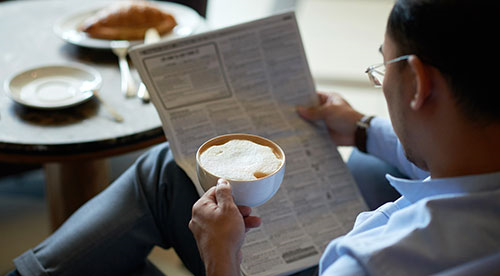 ---
Release Notification
Date: 30th September 2021
Watermarking 2.0 is now available
Cloud services are no longer required in this major version release: watermarking is now available on your Windchill server through a contained engine. We also implemented new features: • Add Watermark as coversheet • Mass watermark using reviews • New business keys • Improved workflow support
Check this video for a demo of the new features.
---
Release Notification
Date: 10th August 2021
New Features

Coversheet 1.7 This latest release of the Coversheet extension includes all characters including Japanese, Korean, Chinese. In addition, we have improved the Designer UI.


Representation Export Plus 1.5 This new version of Representation Export Plus includes new collector tools to allow users to add structures quickly and easily to the export.


Promotion Validate 1.7 This update to 1.7 has an additional feature to ensure that the Promotion Edit mode now supports validators.
---
Release Notification
Date: 14th July 2021
Windchill Extension Loader

We continuously work on providing new extensions and enhancing the existing ones to improve your experience of Windchill and your productivity. Check out the latest news and releases and discover new features and functions that will make your life easier.
This support extension loads data and configurations into your Windchill system in a controlled and repeatable manner. It ensures that the data to be loaded is tightly controlled and can be reloaded onto various systems, allowing multiple environments to be configured seamlessly. It uses standard PTC loading mechanisms to perform the load. Using the Extension Developer Kit (EDK), the configuration team can create a new extension which contains all the data to be loaded, this "data-only extension" can be deployed into the system to load the contained resources. This can be done for on premise or cloud environments without ever requiring access to the server itself.
---
Release Notification
Date: 13th April 2021
Change Analysis

We improved the Change Analysis Extension and just released the version 1.3.

---
Release Notification
Date: 22nd February 2021
Coversheet

This extension allows to add a coversheet at the beginning of a PDF document. Admin users can easily create a coversheet by generating and drag-and-dropping elements like images, text, tables of reviewers/approvers in a clean and intuitive user interface.

---
Update Notification
Date: 19th November 2020
The Windchill Extension Center is a dynamic program that is continuously delivering new releases and improving the existing ones. By subscribing to the Engineering or Engineering Plus Bundle, you can have access to a range of extensions that will significantly improve your company's productivity and quality. This is an update on our last deliveries, make sure to explore them on the Windchill Extension Center and try them yourselves on your systems!
Windchill Extension Center updates
Windchill 12.0
All the extensions are now available on Windchill 12.0. If you already have upgraded to the latest version of Windchill PLM, you are now able to install any of the Windchill Extensions on your system.
Agile version management
As our development cycle is very fast, by the time a customer has finished testing and approving one version of a Windchill Extension, one or more iterations of the same Extension may have happened. To avoid having to do a retest, we now give the option to download a previous version of an extension to match what you have tested in your systems.
New Releases
Document Export

Extends Windchill's Document Management module by dynamically exporting documents to an external location. This extension can export both content and metadata. Document Export is typically used to feed external tools that distribute documents to a wider audience outside of the PLM environment.
XSB Swiss Connect

XSB's SWISS Connect extends Windchill's Aerospace & Defense module by creating change-aware connections between documents stored in Windchill and their referenced standards and specifications (such as ASTM, MIL, ASME, SAE, etc).
IHS Markit Synch

IHS Markit Sync extends Windchill's BOM Management and Supplier Management modules by synchronizing supplier part information between Windchill and the IHS Markit Parts database. The user may synchronize one or more parts on-demand. Synchronization may also be automated on promotion requests, changes, and other workflow events.
New Features
Promotion Validate and Promotion Validate Plus

A new validator has been added to the list of already 12 existing one. This validator allows you to check the part's children state before committing a Promotion.
Representation Export

It is now possible to export the representations from the Search menu. Diagnostics have been added to improve the customer support.
Representation Export Plus

The new features on Representation Export have also been implemented on Representation Export Plus. On top of that, it is now possible to send the export .zip file to a specific user role that can be configured.
SiliconExpert Synch

Added the ability to search for a part with multiple manufacturers. Quick links are also available now to provide better diagnostics.
Coming Soon
Coversheet

This extension allows to add cover and/or trailing sheet at the beginning/end of a PDF document. This is often required when your PDF are distributed outside of your organization, as a typical use case consists in sending documents to regulation organizations: adding a cover sheet provides an audit trail of approval on a specific date for the PDF.
Emulate3D Connect

Emulate3D is a Rockwell Automation Suite providing a Dynamic Digital Twin of the factory production lines for virtual commissioning, throughput simulation, and industrial demonstration. This extension allows the complete set of data generated in Emulate3D to be fully managed in Windchill.
---
Release Notification
Date: 17th August 2020
We keep extending our offer of new Windchill Extensions and improving our existing ones to continuously provide new features and capabilities to extend your Windchill systems. This is an update on our last deliveries, make sure to explore them on the Windchill Extension Center and try them yourselves on your systems!

New Releases
Representation Export Plus

This extended version of the classic Representation Export includes a new feature to export as a document, email features to help controlled sharing for the exported data and new menus in the search results.
CAD Quick
Gives a quick and effective way for the users to download the Primary Content of one or multiple CAD Documents. Works from folders and search results.
SiliconExpert Connect Starter

This extension is a free version of SiliconExpert Connect with no requirement for SiliconExpert licenses. Gives you a BoM health checkon structures up to 200 parts.
Assembly Where Used

Adds features to the popular free extension, Assembly Where Used Starter, to allow top items to be non-End Items and a new export feature.
New Features
Representation Export

New feature to allow download straight from the search results.
PDF Quick Access Starter

New capability to support for Dynamic Documents (Arbortext™) and improved performance diagnostics.
SiliconExpert Synch

New improved mapping to allow multiple SiliconExpert attributes to be combined into one attribute in Windchill. Added new features to control the type of data to be sent to the remote server.
Coming soon
XSB Swiss Connect

This extension will analyse documents, from legacy scanned drawings to typical PDF specifications, and link these objects within the PLM System to other internal assets and external digital models. XSB SWISS Connect will identify the status of the referenced documents (e.g., changed, cancelled) and notifies the user of outdated dependencies.
IHS Markit Synch

This extension will access the data from IHS Markit to allow clients to get hold of a full range of parameters from this extensive external database of supplier information.
---
Release Notification
Date: 17th August 2020
Windchill 12 Release
We have released the Windchill Extension Platform for Windchill 12, the latest version of PTC award-winning PLM software, and it is available to download here. The full complement of the extensions will be released in the next few days, along with some new ones too!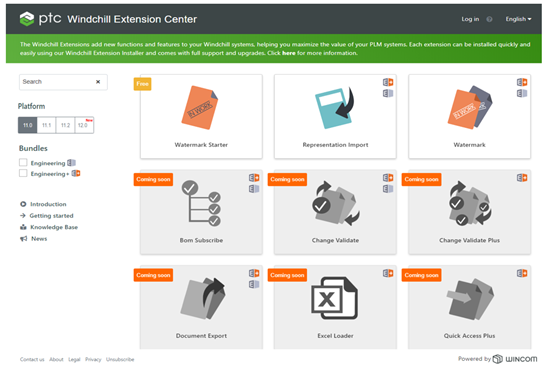 ---
Release Notification
Date: 30th July 2020
Windchill Extensions Beta Program
The beta program gives you access to early releases of the extensions. We do this as extensions are constantly being improved and have a high frequency release cycle and we want to have early feedback. You can request to be a beta tester and at this point will have access to all betas as they are released and will be on an email list to be advised as new betas become available.

Note: Betas may not be deployed to production systems.
What do I get as a beta tester?
• Get access to betas before official release
• Give feedback to get your feature added
• Help give direction for new releases
New features
When you request an additional feature on an existing extension, and it is approved
• Wincom adds the feature to a beta version of the extension
• The extension goes through our QA system and is fully tested
• The beta version becomes available on the Windchill Extension Center
We want to make sure that the feature is exactly what you requested before making it available to all our customer base. We invite you to download and install this beta, and if it is compliant with your requirements, we will release a new version of the extension, after another test cycle, including this functionality for all our customers. You can then install the released features in production.
Request to become a beta tester
---
New Releases
Date: 13th May 2020
SiliconExpert Synch

This extension allows a user to synchronize parts with the SiliconExpert database. The extension allows for single or multiple parts to be synced using menu actions or workflows. It can be initiated from a part, a folder page or a search. The seed object is a Part or a supplier part. Here is the features and functions video.
Representation Import

The user can select a file and import it using a new user interface, where it will be added as a new presentation to the object. A bulk import is also available to import a number of representations simultaneously. Here is the features and functions video.
Change Review

• Making this new Change object visible from the changeable e.g. part or document
Equivalence Links

• Access to the Upstream and Downstream parts directly in the User Interface
SSL Certificates

• Adds support of SSL certification to Windchill
Major Updates
Representation Export 1.6

• Added group control for UI
• Updated XML to allow multiple representations + more data
• Meta data exported when no representations are available
• Added 3D and DXF support
Coming soon!
CAD Quick

This extension allows a user to download the CAD directly from within Windchill without having to use a workgroup manager. It downloads both primary and secondary content.
IHS CAPS Universe Sync
Synchronize manufacturing parts with the IHS Markit CAPS Universe database. The extension allows for single or multiple parts to be synced using menu actions or workflows.
---
Update Notification
Date: 26th March 2020
Change Analysis
A new version is now available. It fixes an issue found in the first release and we suggest that you update to version 1.1
Also, we remind you that a server restart is not required during the installation of the extension.
---
Update Notification
Date: 20th March 2020
Quick Access 1.3

The updated version includes the following:
• Improved the algorithm to prefer the same number if more than 1 drawing is found • Added new diagnostics • Quick Access icon now available in the search results
Watermark Advanced 1.2

The new version now has the following features:
• Publish event to trigger watermark • Possibility to add additional business data such as numbers, names of promotions, changes etc…
---
Release Notification
Date: 24th February 2020
Platform Cluster Manager available
Platform now supports cluster, and you may manage this at the UX level. Documentation is here.

Change Analysis released
This extension assists users with post-analyzing the effects of a change.

Promotion Validator advanced
This extension enables you to add you own validation rules, in addition to the rules provided by Promotion Validator.
---
Release Notification
Date: 4th January 2020
Assembly Where Used 1.2
Improved UI with links to the part add and icons to indentify parts more easily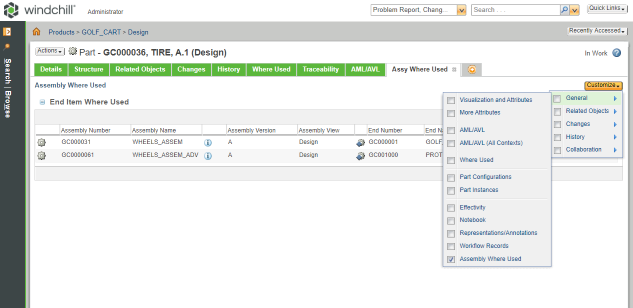 ---
How to… Videos
Date: 3rd December 2019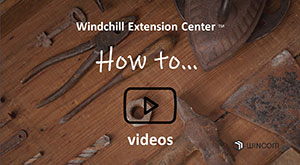 Would you like to know more about how to install and run our Windchill extensions? We have started the "How to…" video series on the Windchill Extension Center to guide you through the whole process. The first videos are on Watermarking and Representation Export, and you can check them out following the link.
---
General Update
Date: 11th November 2019
Platform improvements
We just released the version 1.1.2 of the platform for an improved performance. All users on 1.0 should upgrade as the new extensions we will shortly release need this version. How to upgrade? Your systems will be dynamically upgraded when you install a new extension, or you can manually upgrade using the upgrade extension.

New Extension releases:
This free extension gives you a quick and effective way to understand the impact of change at a glance.

We updated to provide you a better and faster user experience.

Coming Soon!
In the next few weeks we will be releasing PDF Watermark, Change Analysis, Representation Export and Promotion Validate Advanced.
We are working on the new version of the SiliconExpert Connect which will include new parametric searching and an integration to PartsLink. We are looking for beta customers. If you are interested, please contact us.
This is all new software, and we are keen to have feedback from you so if you any questions or suggestions, let us know.