Details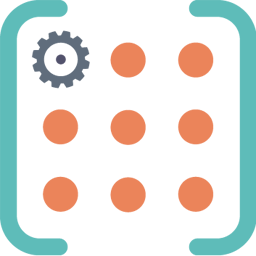 | Name | Description |
| --- | --- |
| Wex ID | com.wincomplm.wex-comp-matrix |
| Name | Component Matrix |
| Version | 1.5 |
---
Overview
The Multi-Component Matrix extends the Windchill BOM Management module, adding another option for comparing Part Structures (BOM's).
It enables a user to select two or more BOM's to compare what Parts make up those structures.
The user can compare by Usage or Occurrence, allowing them to quickly scan to see differences.
Features
Select two or more BOM's to compare. BOM's can be further added or removed from the Multi-Component Matrix view.
Compare the BOM's using Usage or Occurrence mode. This provides a simplified list showing the Parts and the level they are at as an aggregated list across all of the BOMs selected
Both modes have a the ability to filter the view to just show Differences
In Usage mode users can see BOM details including Quantity, Line Number, Find Number and Unit of Measure
Occurrence mode uses Reference Designator for alignment and is particularly suited for comparisons of designs such as Printed Circuit Boards (PCB) to understand differences of similar designs.
Data can be Exported in Excel, CSV, HTML and PDF format
User Guide
Concepts
The tools is designed to compare the latest BoM of a number of part structures.
Launch
The tool will be available for all users, from the following menus
Folder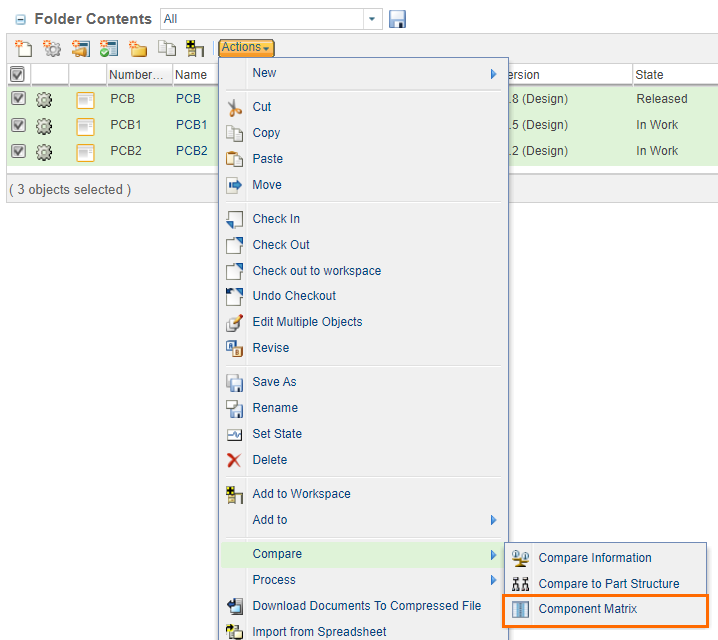 Part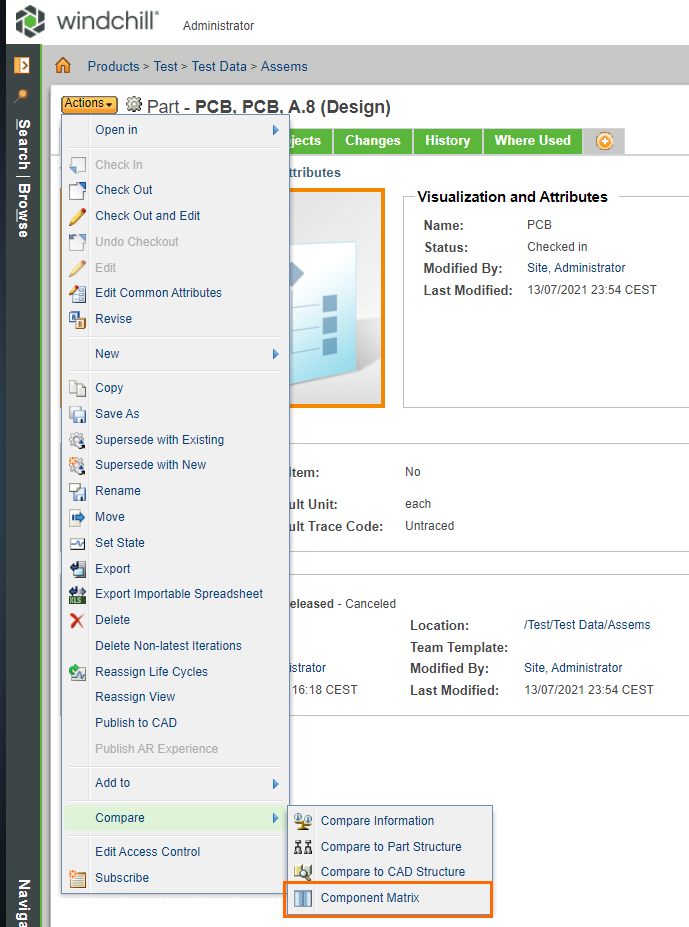 Compare Tool
The interface will appear as follows
Occurrence Mode

The items selected in the left panel and the occurrences in the right.
The tool uses a uniqueness to search each structure for items and compares items that share the following uniqueness
Reference Designator - Level - Number
Then if all matching lines are the same the Difference column is empty, or it not a Delta symbol will appear.
Each part show a tick or a dash if we have this uniqueness found in this structure.
By selecting the show only difference only items with deltas will be shown

Usage Mode
By selected the mode icon

The tools will change to the Usage Mode
This mode with show data associated in the link data held that forms the structure
Quantity
Unit of Measure
Line Number
Find Number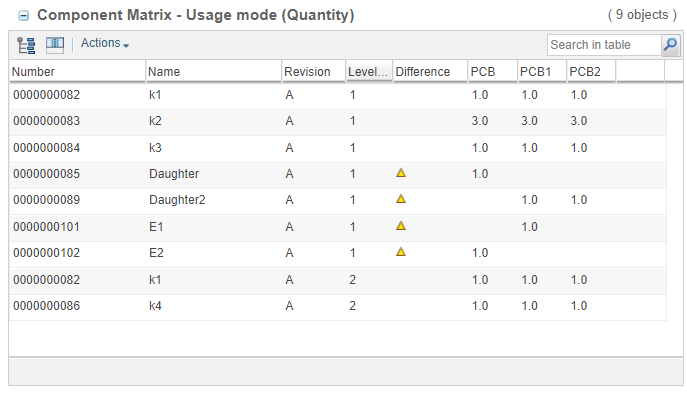 What is display can be adjusted in the settings menu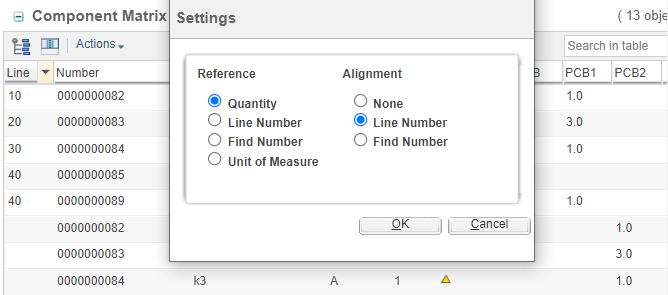 Alignment and uniqueness in Usage mode
The uniqueness in usage mode is as follows
Level - Number
However an alignment parameter can be optionally set as a prefix, either Line Number or Find Number
Part List
The list UI is used to control the list of parts and which ones are active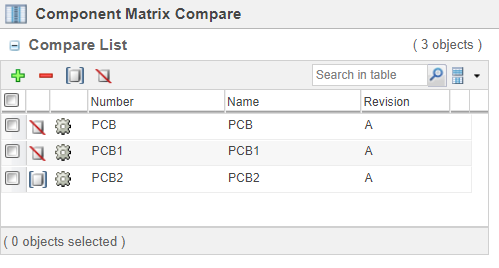 Exporting the data
Either table can be exported using the menus, into 4 formats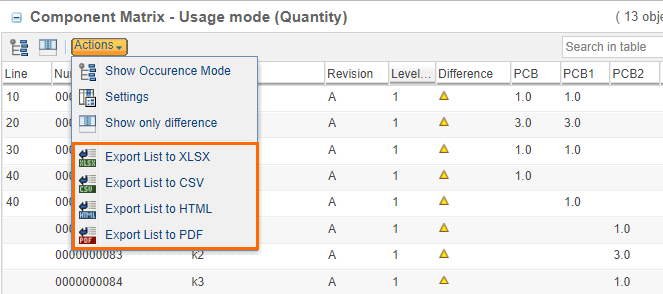 Administrator Guide
Configuration
The default state mode of the launch can be set by an administrator in the configuration of the extension