Details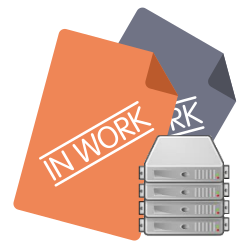 | Name | Description |
| --- | --- |
| Name | Watermark Server Manager |
| Version | 1.2 |
| ID | wex-watermark-server-manager |
---
Overview
Manages the servers that will be used to watermark, it is a supporting extension of the other watermark extensions.
Gives performance statistics and current availability.
This extensions will be automatically downloaded and installed as required.
Latest documentation for this extension is available here
---
Features
Configures which servers will watermark
Shows status of all servers
Allows servers to be auto manually selected
---
User Guide
User Interface
This is an administrator only extension and has no user interface
---
Administrator Guide
Architecture
This extension uses a cloud service or an on premise server to apply the watermark.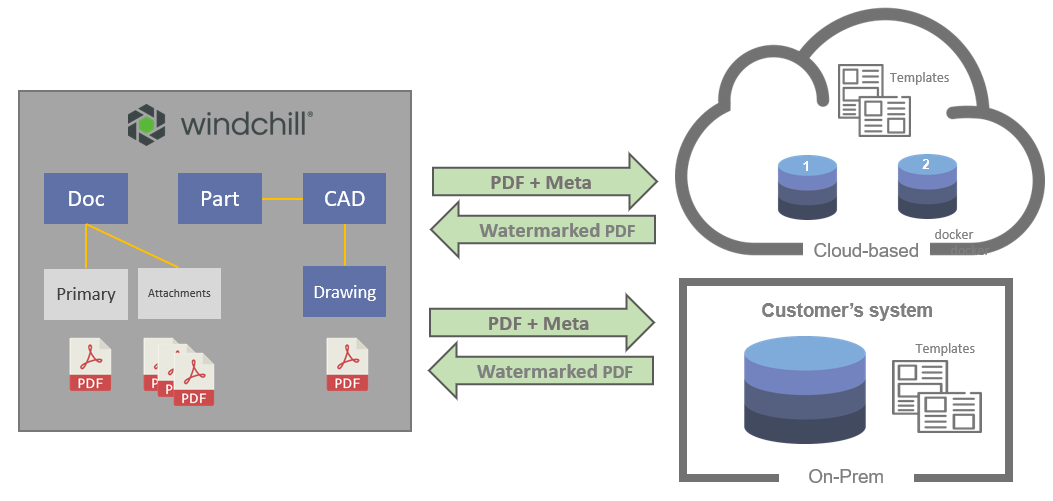 Server Status Monitor

There is one master server and multiple slave servers. Each slave server will register itself with the master server which will maintain a list of current servers. The user may chose to manual configure the server list.
It will use the current server list to show the availability of servers.
Address - The server address of the slave server
Status - Online or offline
Primary - The server that will be used, this determined by availability and response time
Quality - This calcluated using the ping response >150ms is poor
Response - Time for the server to respond to a ping
Processor - This indicates the number of simultaneous jobs this server will perform
Jobs - Number of jobs being processed
Type - A server can be decicate to a specific client or shared.
Message - Messages sent, typically indicates a non-functioning server
Note: The time it takes for a server to watermark is dependent on network performance and the size of the PDF to watermark.
If you cannot access the Wincom cloud servers it may due to be network restrictions for your Windchill server
You can download and install one of many local servers, the installation and download guide is here
Template Keys
These are keys that can be substituted in a template.
A template can show any of the follow keys or custom keys may be added
| Key | Description |
| --- | --- |
| number | Number of the object |
| name | Name of the object |
| oid | Unique id of the object |
| creator | Full name of the creator |
| creatorid | User id of the creator |
| modifier | Full name of the last modifier |
| modifierid | User id of the last modifier |
| user | Full name of current user |
| userid | User id of the current user |
| createdate | Date of creation |
| createdatetime | Date and time of creation |
| modifydate | Last modified date |
| modifydatetime | Last modified date and time |
| revision | Revision e.g. A |
| iteration | Current iteration |
| stateinternal | Internal state |
| statedisplay | State display name |
| nowdate | Date now |
| nowdatetime | Date and time now |
| nowyear | Current year e.g. 2019 |
| clientid | PTC client id |
| clientname | PTC Client Name |
| wexversion | Version of extension that made the request |
| wexhasexpired | If the extensiosn has expired |
| wexid | ID of the extension |
| template | Template used to watermark |
| wmaction | Action e.g. download, overwrite |
| filename | Filename of PDF |
| pbonumber | Number of the seed business object e.g. Promotion |
| pboname | Name of the seed business object e.g. Promotion |
| pbostateinternal | Internal state of the seed business object e.g. Promotion |
| pbostatedisplay | Internal state of the seed business object e.g. Promotion |
For how to configure the templates further, please read the Watermark Templates Configuration
Configuration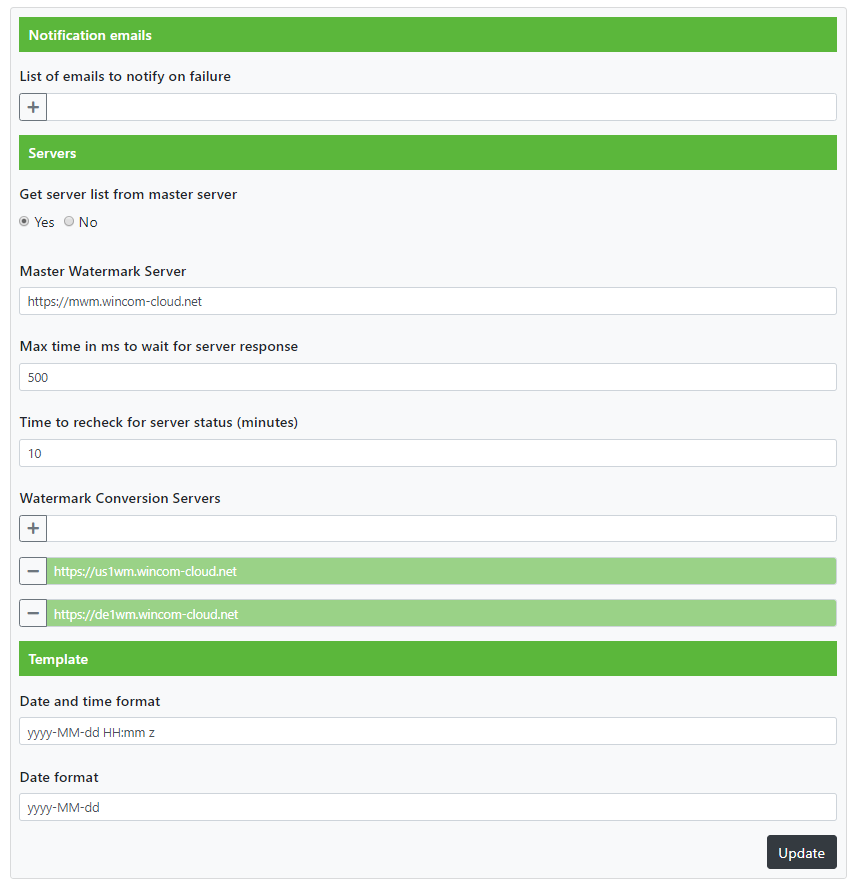 Servers
The watermark is applied by an external server and this may be on the cloud or on-premise.
There is a master server that is used to manager the actual watermark servers that are available. It can automatically provide a list of available servers to the extension.
However the user may chose to specify a list of servers manually.
List of emails - These users will recieve warning messages if the watermarking is failing (only for advanced)
Get server list from master server - Will request a list of available servers from master
Master watermark server - Address of master
Max time in ms to wait for server response - The server that will be used, this determined by availability and response time
Time to recheck for server status (minutes) - Time to check server status, which is used to determine the primary server to use to watermark
Watermark Conversion Servers - The manual list of available server (only used if master server is not used)